News
9-6-00 - Yes! It uploaded. Recently Tripod, my host, has been acting very funny lately. I haven't been able to upload a thing. I would like to tell you all that I am rebuilding my site and will be reopening soon. We are still in buisness. I'll tell you all (if I can) when we do move.
8-24-00 - Paintings links fixed. How come no one is telling me these things?!?!?!?!?!?!
8-21-00 - Sugar 'n' Spice Bedroom added in celebration of the birth of Alexa Valentino at
Coaster's
. Get it in our objects section.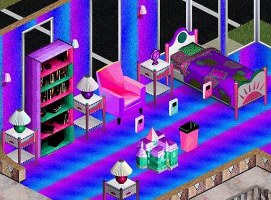 8-21-00 - 2 new painting collections added. 2 new object sets added. 8 new roofs.
8-21-00 - Skins and Such links fixed. How come no one told me? If you ever find anything not working right just
8-14-00 - I'm back! I brought 11 paintings with me in my new paintings section of the site. Look under Skins and Such.
Now, the mystery of the last two weeks will be solved.
Here is the story.
I knew I was going to be going on vacation for the first two weeks of August. I told a few people but not most of you since I thought I would be able to update the site while I was gone. I got all packed and put everything I needed for the site on a CD to use to update the site. Well, as my luck would have it, there was a computer where I was staying with Internet access but, to my amazement, this computer did not have a CD-ROM drive so I couldn't do a thing to the site. I am sorry that I wasn't able to update the site. Next week I should have a lot more things for you to download.
8-14-00 - I made a few minor changes to the site. I moved the counter into the top frame and a few other things.
7-24-00 - I have been told many times that I need more content. I need you to tell me what you want. I cannot read minds. Sorry. Just tell me. You can either e-mail me at
jgw_2000_87@hotmail.com
or send me an instant message. My IM name is simjim1987. You may use the AIM remote below to send me a message.